Chance by Chanel Can't Stop Sniffing at my wrist.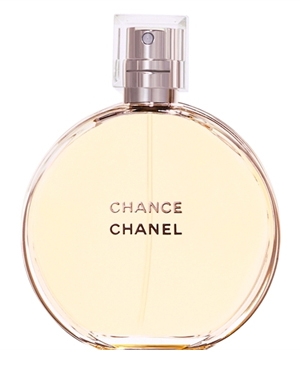 Chance by Chanel -
I'm testing a little sample of
Chance by Chanel
perfume today and oh my goodness. It's gorgeous. I'm head over heels in love with Chance!
I smell warm pink pepper in the first minute or so of wear. Then
pineapple
: a fresh pineapple scent that's clean, not the sticky sweet scent of canned pineapple or pineapple juice. The top notes are uplifting and really delicious.
In the middle notes, jasmine blooms, softened by the iris.
Chance
gradually evolves into a soft, powdery, feminine floral that holds onto the freshness of the pineapple. The jasmine in here is light and soft. The middle notes are quite elegant; there's no heaviness to Chance this is a perfume with a delicate touch.
Chance by Chanel
dries down, the powder lingers softly, with a fresh sweetness that keeps the scent cheerful. I smell a crystalline patchouli and the warmth of white musk. Predominantly, though, I smell sweet, powdery amber and the crystalline patchouli. Actually, this is patchouli that I was hoping for in
Dior's
Miss Dior Cherie's
dry down, but it never quite blooms on my skin in that perfume. In Chance, it's perfection. I can't stop sniffing at my wrist.
Chance by Chanel
Chance is heavenly. It works beautifully with my chemistry. I positively adore it. I must get a full bottle of this elegant, feminine perfume. I get special offer from (
here
) thought it was unboxed or (
here
) eau de parfume.
or
tags: chanel fragrance, eau de toilette, perfume, Sensual scent, warm, women, women best selling fragrance, Chance by Chanel